FlexCAM supplies some of the world's leading conveyor systems to many Australian food and beverage manufacturers and has recently moved to larger premises as it adapts manufacturing to its own design solutions.
FlexCAM, a Melbourne-based manufacturer and supplier of conveyor systems, has recently moved to larger premises in South East Melbourne.
An increase in system design and assembly were the main drivers of this move, following the growth of business across Australia, primarily in the food and pharmaceutical sectors. These sectors have always been a key market for FlexCAM, with both FlexLink-branded products and in-house designed solutions.
This includes the FlexLink range of stainless steel slat chains and modular belt conveyors, as well as the company's range of in-house designed solutions.
Traditionally, the strength of FlexCAMS has been the FlexLink style of aluminum and stainless steel conveyors.
Shaun Mansell, Director of Engineering, says, "Our markets were typically focused on fabrics, food and beverage, pharmaceuticals, etc., with a primary focus on end-of-line packaging. We wanted to take advantage of this with our own range of solutions.
In 2018, FlexCAM took over the distribution of FlexLink products in Australia and New Zealand.
Since then, the company says it has leveraged the extensive experience of its engineering team and developed its own range of solutions to complement the FlexLink range.
This includes modular belt, homogeneous belt, metal belt, spiral and slat chain conveyors for industries such as bakery products (e.g. breads, cookies), cheese making, wine and brewing, fruit processing and meat handling.
Based on the philosophy of "simple solutions to complex problems", the focus has been on providing high value solutions through a range of alternative conveyor systems, sourced and partnered with the best brands in the industry. .
Key criteria were high levels of hygiene, low maintenance, easy cleaning and long system life. Forming partnerships and signing licensing agreements with global vendors such as Intralox, Ambaflex and Twentebelt were key to FlexCAM's long-term strategy.
Our relationship with FlexLink is based on the quality of the products and the solutions they offer. FlexLink is the world leader in modular conveyor systems.
Sales Manager Brian Gilmore says, "We wanted to capitalize on this by partnering with like-minded suppliers of other conveyor-related components. »
FlexCAM Managing Director Steve Alcorn says the company's goal and commitment is to deliver premium quality products.
"We have developed a range of solutions that are positioned at the top end of the market for customers who expect a lot from their suppliers' quality systems.
"Ease of maintenance, tool-less strip removal and ease of cleaning, combined with realistic pricing, are key to our competitiveness. We supply products to an industry that demands reliable, high throughput, flexible and low power systems. They don't want to maintain or clean the conveyors, they want to use them," says Alcorn.
Flexible, high-value design
Alcorn says an example of this is the company's plan with global specialists to design a spiral packaging conveyor without an internal drum, making the company the only Australian manufacturer to do so. FlexCAM offers this advanced design through the various plastic, stainless steel and hybrid belts available for its spiral conveyor systems. The use of the three belt technologies allows the application of these systems in cold rooms, freezers and ovens. Temperature ranges are -40C to 300C.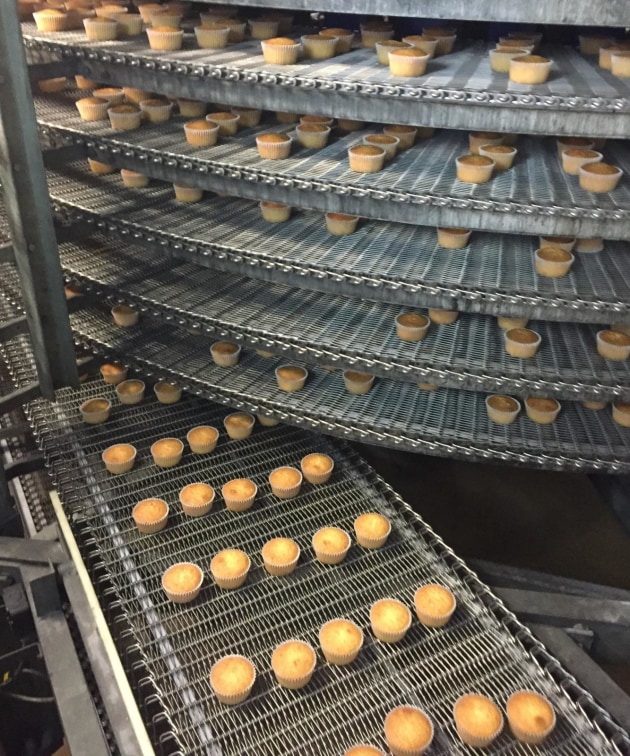 Following FlexCAMS design principles of hygiene, ease of maintenance and competitive pricing, FlexCAMS decided to base its offering on a drumless spiral.
"Using Side Drive technology allows us to design a range of solutions that a traditional drum auger simply cannot achieve.
"We can design 'low in and high out' as well as 'low in and low out' systems, eliminating the need for decline conveyors and allowing packaging equipment to be positioned closer to the spiral exit, which which ensures that the product remains at the optimum temperature. says Alcorn.
Drumless systems also provide increased cooling opportunities for FlexCAM customers, reducing the time they need to stabilize product.
Hygienic design
High-quality producers need high-quality production solutions that allow them to focus on product quality.
"The core line of FlexLink conveyors, complemented by specialist products from industry leaders such as Intralox, Ambaflex, SEW and Nord, puts us in a unique position to deliver optimal solutions in the harshest environments," says Alcorn.
The key to FlexCAM
With a strong engineering and project management team, the company offers a wide range of industry-specific solutions. These range from simple angle change parts for different products on a bottling conveyor to telescopic retractable conveyors for loading trays.
"We design everything in 3D in close collaboration with the client to ensure that they get the best result for their investment. We also offer our customers expert knowledge in production flow and line efficiency," says Alcorn.
For FlexCAM, this means the company can ensure the entire process is balanced for minimal downtime and consistent throughput while maximizing the customer's return on investment.