WASHINGTON — Following reports that the Army may not meet its recruiting goals, the service's senior officer said the branch remains steadfast in its commitment to meeting its end-force goals, but will continue to seek candidates that meet his rigorous qualifications.
"We're not going to lower the standards," Army Chief of Staff Gen. James C. McConville said Wednesday in an online discussion at the Defense One State of the Army conference. .
In August, the Army reported that it had recruited only 52% of its year-end projection of strength and could potentially be 15,000 below the mark, due to a lack recruitment.
"We're certainly worried," McConville said.
Only about 23% of Americans qualify for enlistment, down from 29% in recent years.
He added that the challenges of learning under pandemic conditions may have impacted test scores. McConville said fewer young people have been participating in sports in recent years and fitness levels may also have been affected.
The general said that typically two-thirds of all potential recruits pass the Armed Services Vocational Aptitude Battery Test which is required to enlist, and currently only a third have passed it.
In August, the service launched its Future Soldier Preparatory Course at Fort Jackson, South Carolina, to help potential recruits meet the academic and physical standards required to enlist. The 90-day pilot program includes training focused on required body fat composition and academics needed before recruits enter basic combat training.
"We want to help them meet US Army standards," McConville said.
To better retain its top talent, the military launched ServiceNow, a cloud-based digital platform that automates and connects processes to improve soldiers' quality of life. Army leaders believe the program, along with the Army's new human resources system, integrated personnel and Army pay system, will help improve work environments to personalize Soldier experiences. .
"If we just look at recruiting for how much, then we lose all those nuances that we talk about in terms of good talent, upskilling and most importantly looking to modernize, we are a technical workforce," said Lt. Col. Kristin Saling, director of the Commanding General's Innovation Cell at Army Human Resources Command at Fort Knox, Kentucky.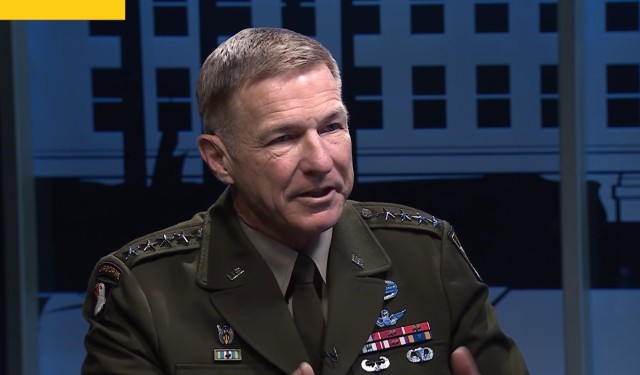 The Army has developed a career mapping and succession planning tool as part of the program which acts as a digital individual development plan designed to outline and track career progression.
She said the tool will provide links to training schools, educational institutions, tuition assistance, certifications, training schedules and self-initiated assessments. The resource will help soldiers build skills to achieve their desired career goals.
"We want people to have an interactive version where they can see where they're a best fit, where there are opportunities they may not have known before, [and] where they can use some of the skills and exercise some of their preferences," she said.
In an effort to attract more recruits during the summer, the Army had considered potentially expanding recruiter rounds, increasing enlistment bonuses, and granting duty station options.
McConville said the military must remain committed to caring for veterans and soldiers. Additionally, he said, the military needs to better educate university leaders about career opportunities in the industry, which range from jobs in cybersecurity to careers in medical fields. In recent years, the military has sought to recruit soldiers into the technology and cybersecurity sectors.
"The military is a great path to success," he said. "There are endless possibilities. You can do anything you want in the military and we want to give people the opportunity to serve.
Saling said the military must take a holistic approach to retaining and retaining talented soldiers in its ranks. She said that by observing a soldier's career progression mid-enlistment or contract and adding value like career development and training, it can help a soldier recommit to the branch. instead of separating.
"It has to be a holistic view," she said. "You have to take the person into account. The person is the centerpiece, you build an ecosystem around them. The worst thing you can do is ask the person to buy software and not figure out if it's for the right person.
Related links:
United States Army Recruiting Command
Army News Service
Archives ARNEWS